Design Attributes
The latitude and longitude reference Doncaster Works where Flying Scotsman was built with the dial taking its design cues from the famous clock on platform 8 at Kings Cross station.
Case
41mm diameter, 316L stainless steel billet machined & polished case
Match machined & polished stainless steel DSL lugs
Polished back displaying a diamond-turned aluminium insert housing the disc repurposed from Flying Scotsman boiler tube. This is set beneath a reverse printed sapphire crystal
Water resistance: 10ATM (100m)
Main Crown
Screw lock & sprung diamond knurled polished 316L stainless steel with triple seal technology
Crystal
Front: Custom sapphire glass crystal
Rear:  Custom flat sapphire glass with reverse printed graphic
Movement
Sellita SW200-1 'Top Premium Grade'
28,800vph
26 jewels
Self-winding ball bearing rotor
Power reserve ~41 hours
Dial
Black printed over brass substrate with applied chrome roman numerals. Highlighted sections in clear satin
Hands
Period matt silver H/M hand filled with SuperLuminova X1 luminous pigment.

Polished sweep hand with diamond cut tail
Dimensions
41mm diameter
13.1mm thick
22mm lug width
46.30mm lug to lug pin spacing
Strap
22/20mm Zero West custom Military and aerospace grade cross-linked fluoroelastomer rubber. 1 fixed and 1 sliding keeper

Reverse sculptured relief

Matt finish

Polished buckle with engraved ZW logo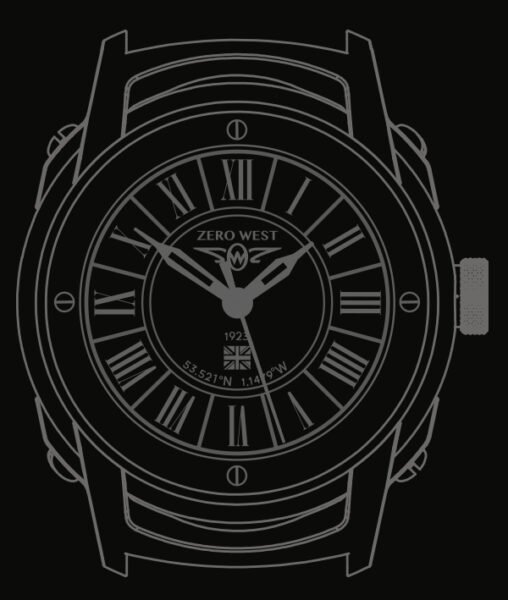 TIME: 24/02/1923 – PLACE: 53.521°N 1.1479°E
Flying Scotsman was the first steam locomotive to haul a regular scheduled service non-stop from London to Edinburgh and the first to achieve an authenticated 100mph. A legendary icon of British design and engineering, a locomotive that evokes nostalgia for the romance of a bygone era of steam travel.
This is everything that we at Zero West are passionate about and the inspiration we search for behind every timepiece. When the National Railway Museum, part of the Science Museum Group approached us in 2022 explaining that they were looking for partners to mark the 100th anniversary of Flying Scotsman, we were intrigued. As one of the world's most famous locomotives, with pioneering design and a world record for speed, Flying Scotsman was the perfect fit for us.
Designed alongside the 'Mallard' by Sir Nigel Gresley, Flying Scotsman was built in Doncaster, the first locomotive of the newly formed London and North Eastern Railway (LNER). It went into service on 24 February 1923 with number 1472, as part of the A1 class which were the most powerful locomotives used by the LNER at that time.
DESIGN
Our Flying Scotsman watches showcase new 41mm models which retain the iconic ZW house style of a billet machined head integrated to our unique DSL lug configuration, and are a new design. The watch head has a 13.1mm profile and is unique in showcasing a piece of steel used on Flying Scotsman in its large exhibition back. Through our collaboration with the National Railway Museum, part of the Science Museum Group, we obtained some steel boiler tube which had been removed during a scheduled refit of the Scotsman's powerful steam boiler. The steel tube was not straightforward to repurpose, but we set about the challenge with our usual ingenuity, aiming to make 200 precision disc inserts to the correct thickness while retaining its attractive surface patination – the result of thousands of hours of use.
The first stage was to clean years of accumulated dirt and baked on grime from the tube's internal and external surfaces. Much manual scraping and media blasting was needed to reveal the final steel surface, taking care not to over clean and destroy that lovely patina. The tube was then carefully slit and flattened into a rough rectangular sheet for fly-cutting to an exact thickness on the milling machine. Once machined, a punch and die set in a hydraulic turret press was used for punching 200 discs from the steel sheet. The discs were then laser engraved with the original Flying Scotsman 1472 serial number and set into the billet, machined and uniquely numbered watch back.
Each engraved steel disc is sealed under a reverse printed sapphire exhibition crystal back. The patinated finish, which varies on each watch, and unique serial number ensure that no two builds are the same. Featuring authentic material used on the locomotive itself makes our limited edition watches rare in number and unique in design.
THE MOST FAMOUS LOCOMOTIVE IN THE WORLD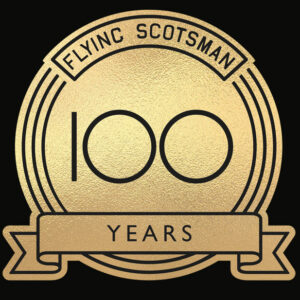 1923: 24th February – Scotsman leaves Doncaster works and enters service with number 1472.
1924: Selected to appear at British Empire Exhibition in London, renumbered 4472 and given the name 'Flying Scotsman'.
1928: 1st May – First non-stop London to Edinburgh service.
1934: Clock at 100mph on a special test run – officially the first locomotive in the UK to reach that speed.
1948: British Railways was formed, and Scotsman now numbered 60103 was painted blue for a while and then BR green.
1963: 14th January – Retired by British Rail and bought by Alan Pegler who had it completely overhauled.
1968: May – 40th Anniversary run from London Kings Cross to Edinburgh.
1969: Toured USA but stranded there after Alan Pegler was forced into bankruptcy.
1973: Bought back to UK by William McAlpine who has the engine restored.
1989: Claimed a new record for longest non-stop run by a steam locomotive at 422 miles.
1990: Repaired again and then bought by Tony Marchington in 1996.
2004: National Railway Museum spearheaded a campaign to save Scotsman.
2006: Underwent extensive restoration at Riley & Son (E) Ltd with the project being completed in 2016.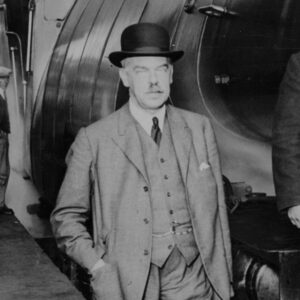 Sir Nigel Gresley was born in Edinburgh, Scotland on 19th June 1876, but raised in England at Netherseal, Derbyshire. He developed a flair for engineering when he was only 14 years old, and it is thought that his interest in railways came from watching the engines on the Netherseal Colliery branch line.
As a young man Gresley served his apprenticeship at the Crewe Works of the London and North Western Railway (LNWR), learning what did and didn't work in engine design. Afterwards he became an apprentice at the Horwich Works of the Lancashire and Yorkshire Railway (L&YR) and began to display a gift for engineering. After several minor appointments with the L&YR he was made Outdoor Assistant in the Carriage and Wagon Department in 1901. He was appointed Assistant Works Manager at Newton Heath depot in 1902 and Works Manager the following year.
Gresley became Assistant Superintendent of the Carriage and Wagon Department of the L&YR in 1904 and a year later moved to the Great Northern Railway (GNR) as Carriage and Wagon Superintendent. On 1 October 1911 he succeeded Henry A. Ivatt as Chief Mechanical Engineer of the GNR and, following the Railways Act of 1921 was appointed to the same role at the LNER. He held this appointment when he designed what would become Flying Scotsman.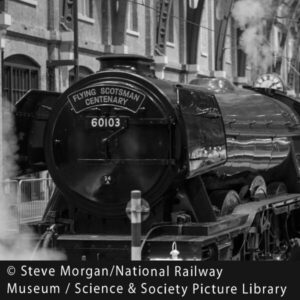 Nigel Gresley wanted to produce an engine that was able to handle the requirements of the mainline express services, which the A1's were designed to haul. 51 A1 locomotives, including Flying Scotsman, were built at this time.
The A1 was designed to haul 600 tons at 50 mph and hence deal with the increasing length and weight of the LNER's express trains.
In 1928 Gresley began to modify the A1 class engines to the new improved A3 class. The 180 psi boilers were replaced with a 225 psi version and fitted with new, more efficient valves and cylinders. The new higher-pressure boilers had a greater superheating surface and later featured the "banjo dome" steam collector that was placed on the top of the rear boiler ring. These modifications were to make the design more powerful and more fuel efficient.
Produced under license for SCMG Enterprises Ltd. Flying Scotsman trademarks ® SCMG/ designs ©SCMG. Flying Scotsman is a National Railway Museum locomotive. Every purchase supports the museum. www.railwaymuseum.org.uk
Images © Science & Society Picture Library