Design Attributes
Latitude and Longitude references Poole Bay, where P9427 was discovered

Date code references Klein's dogfight above The Needles

Dial design based on a airspeed indicator
Crown modelled on the joystick gun platform fire button
Merlin engine smelt from P9427, laser engraved
Case
44mm diameter, black PVD, 316L stainless steel billet, with eight machined flutes
Match machined, black PVD, 316L stainless steel DSL lugs
Black PVD, 316L stainless back with exhibition sapphire crystal window displaying laser engraved P9427 merlin engine disc from the plane
Main Crown
Matt silver finished screw crown, modelled on the joystick gun platform fire button. 316L stainless steel with triple seal technology
Crystals
Front: custom double domed sapphire glass with blue AR coating on the internal surface
Rear: flat sapphire glass
Movement
ETA 2824
28,800vph
25 jewels
Self-winding ball bearing rotor
Power reserve ~38 hours
Water resistance: 10ATM (100m) 100% tested
Dial
Black enamel over brass substrate with over printed vintage dial based on airspeed indicator, numerals and aviation indicators highlighted in SuperLuminova X1 luminous pigmen
Hands
White avionic style hands coated in SuperLuminova X1 luminous pigment. Vintage red sweep hand
Dimensions
44mm diameter
14.1mm thick
22mm lug width
49.6mm lug to lug pin spacing
Strap
22/22mm Custom handmade leather strap (half stitched)
Single wide sliding keeper loop
Matt black 316L stainless steel buckle with engraved ZW logo
180mm – 220mm wrist circumference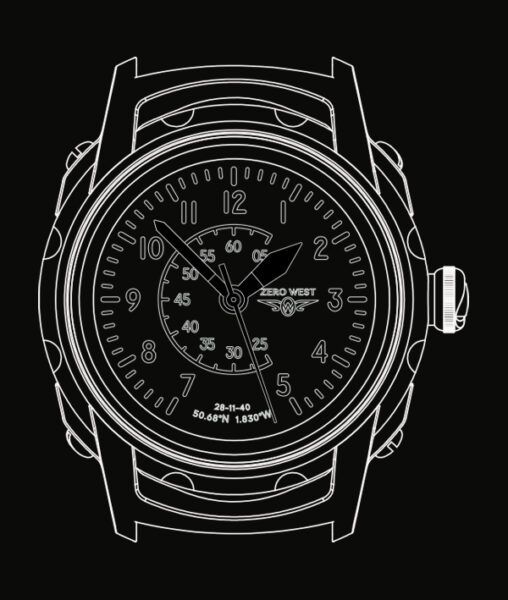 THE STORY BEHIND THE WATCH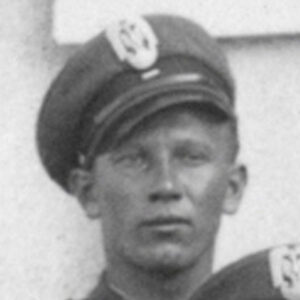 At the tender age of 22, Polish Sergeant Pilot, 'Ziggy' Klein fought with skill and courage in the Battle of Britain, initially for 234 Squadron based out of Middle Wallop before transferring to 152 Squadron flying out of RAF Warmwell in Dorset.
He learned to fly at the age of 19 whilst serving in the 4th Air Training Squadron and the Pilot School in Grudziadz, Poland. It was clear he was a skilled pilot and as the war rapidly progressed and Poland was aggressively occupied, his squadron made its way to France where they became attached to the Royal Air Force. Having reached Britain's shores by February 1940, Ziggy received further combat training before being assigned to 234 Squadron on 6th August 1940, and thrown in to what would be forever marked in history as, 'The Battle of Britain'.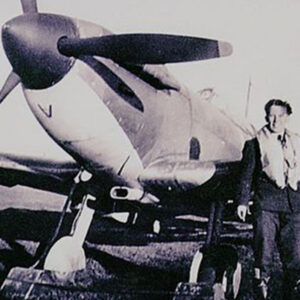 Spitfire P9427 was built at the Supermarine Aviation Works in Eastleigh, Southampton and was first flown on the 19th March 1940. The Mk1a Spitfire had a Merlin III engine powering it to a magnificent maximum speed of 367 mph, and combat range of 248 miles on internal fuel. Armed with eight 0.303 Browning machine guns firing 350 rounds each, this formidable engineering masterpiece was designed for attack and ultimate manoeuvrability in the air. It was designed to be a master of the skies and combat the Luftwaffe.
P9427 saw initial action in the historic 609 Squadron, before joining the 'Battle of Britain' with the 74 and 41 Squadrons. By 2nd October 1940, P9427 found a home at 152 Squadron; a few days later, man was joined with machine when Sergeant Pilot 'Ziggy' Klein transferred to RAF Warmwell.
On the afternoon of Thursday 28th November 1940 152 Squadron was called to action with 609 Squadron, and intercepted twenty Messerschmitt Bf 109s flying between the Isle of Wight and Poole Bay at 22 000ft. On contact the Squadron immediately broke formation and dogfights quickly exploded into being as fighter planes combined fire power with manoeuvrability to gain air superiority. Attacking in pairs, Klein quickly descended into a dive above The Needles following a lone Messerschmitt at top speed.
The chase was on and with sights set on defending Britain, Klein teamed up with Flight Lieutenant John Dundas of 609 Squadron as their Browning machine gun bullets ripped into the enemy fuselage, the plane plummeting into the sea. It was only later, through the German Press that RAF Fighter Command realised that the Messerschmitt was piloted by legendary Luftwaffe fighter ace, Major Helmut Wick.
Sadly, the elation of this success was short-lived for Klein. Taken down by a spray of bullets in this maelstrom in the air, Spitfire P9427 spiralled out of control to plunge into the depths of Poole Bay.
What we do know is that Sergeant 'Ziggy' Klein, like many other young pilots of The Battle of Britain, gave the best of themselves for our freedom.
Sgt Pilot Zygmunt 'Ziggy' Klein: 28 Combat Sorties. 65 Operational Flights
TIME: 28/11/1940 – PLACE: 50.68°N – 1.830°W
RECASTING HISTORY FOR THE S4-P9427
FROM DISCOVERY TO CREATION
Discovered by a fishing boat in Poole Bay off the Dorset coast, remains of Spitfire P9427 were retrieved from the depths. Half a century of salt water corrosion had left identification using serial numbers of the engine components, redundant. However the spinner and two propeller blades had been buried in the muddy seabed and were salvaged intact. It was clear from the blade length and pattern, and the shape of the spinner, that this precious find was an early Mk1 Battle of Britain Spitfire. Extensive research through official RAF records and numerous accounts of dogfights and planes lost in Poole Bay during and after the Battle of Britain, left no doubt that this was Spitfire P9427, flown by Sergeant Pilot Ziggy Klein of 152 Squadron, lost in combat on the 28th November 1940.
'When we were presented with the unique opportunity to purchase the aluminium Merlin engine casing from this iconic plane, it was a dream come reality. We immediately brainstormed numerous ideas and discussed how we would turn this historic material into something tangible to be part of our Zero West heritage watch collection. It occurred to us that if we smelt the engine casing into machinable bars, we could produce a very limited number of watch back inserts for a truly special piece of aviation history.'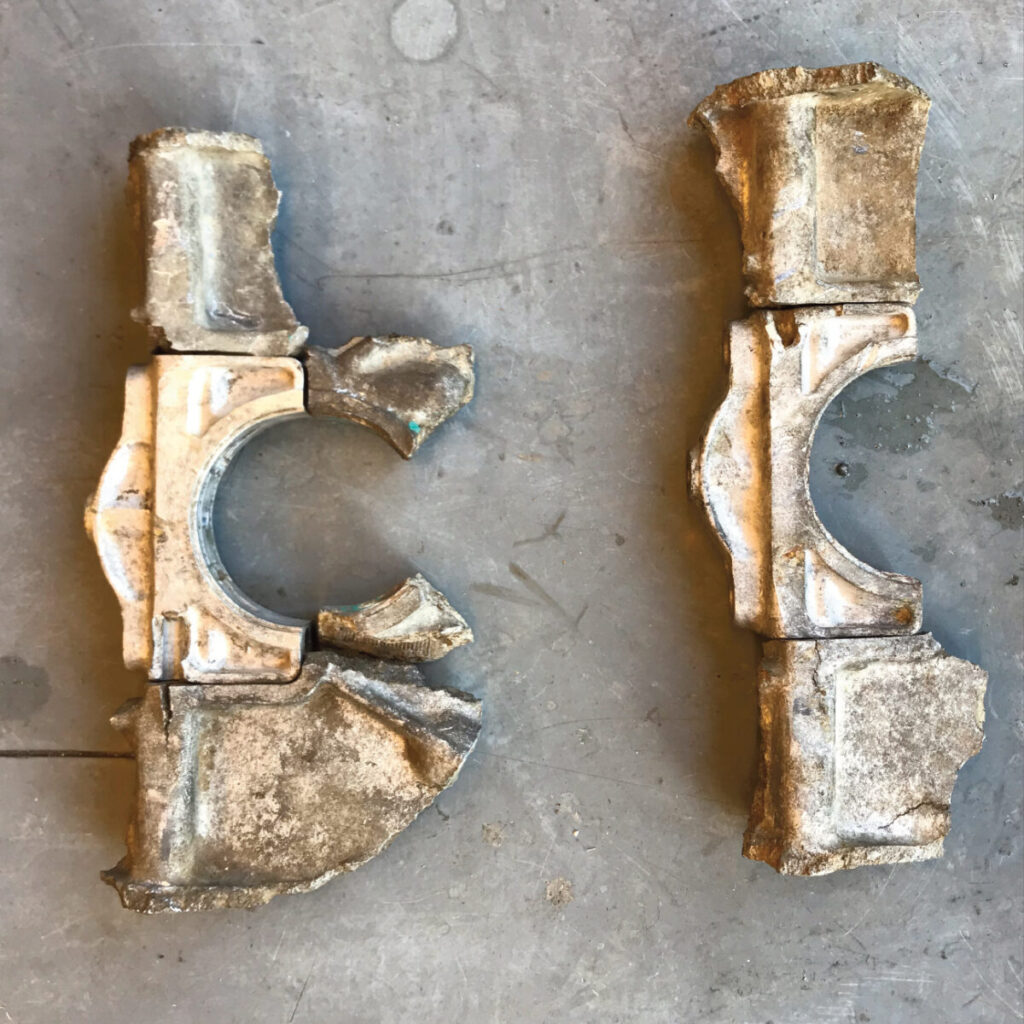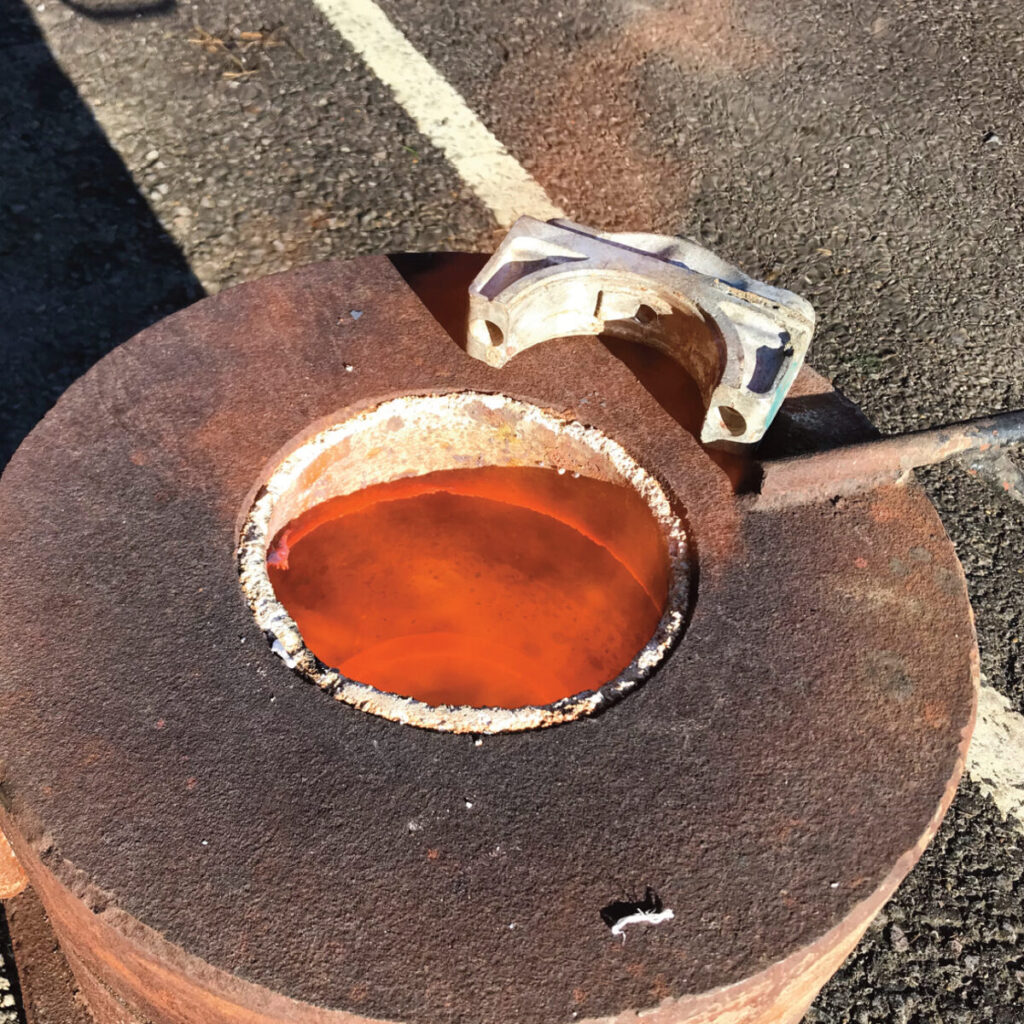 'We made a firm decision to sand cast the alloy into round bars and then re-machine them to retain the integrity of Zero West, which is to billet machine our watch parts, rather than forge or cast them. During a local promotional photo shoot at Foundry Motorcycles, Chichester, we noticed that Tom, the owner, cast his own aluminium alloy parts, so we discussed the possibility of him smelting our bars, which he did.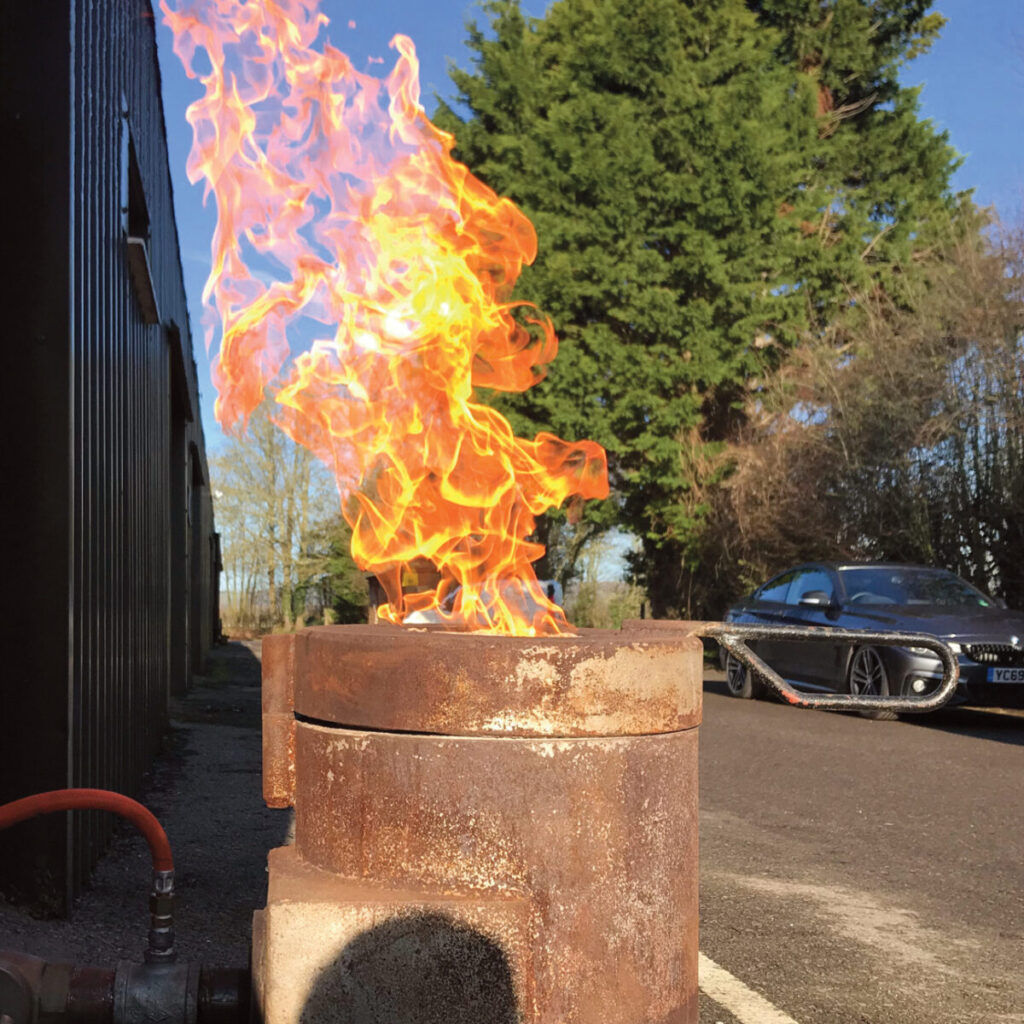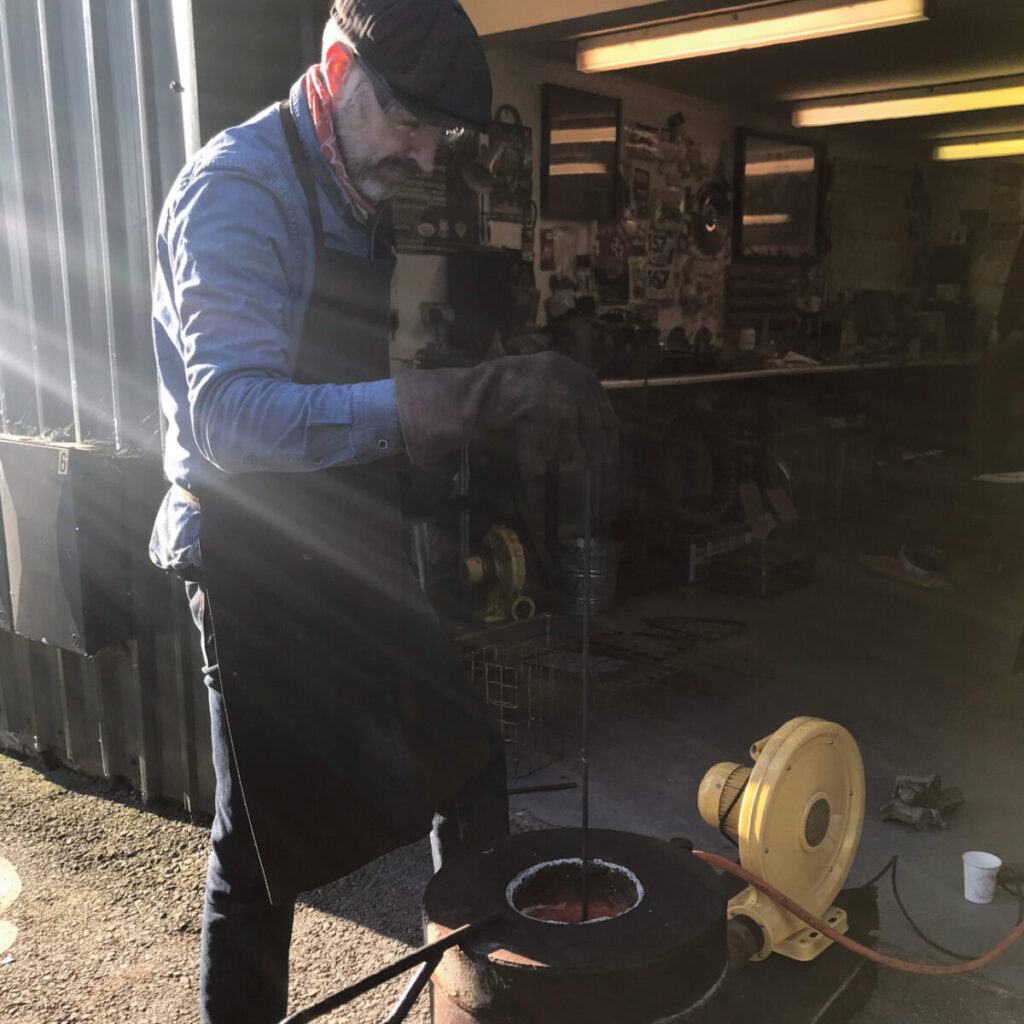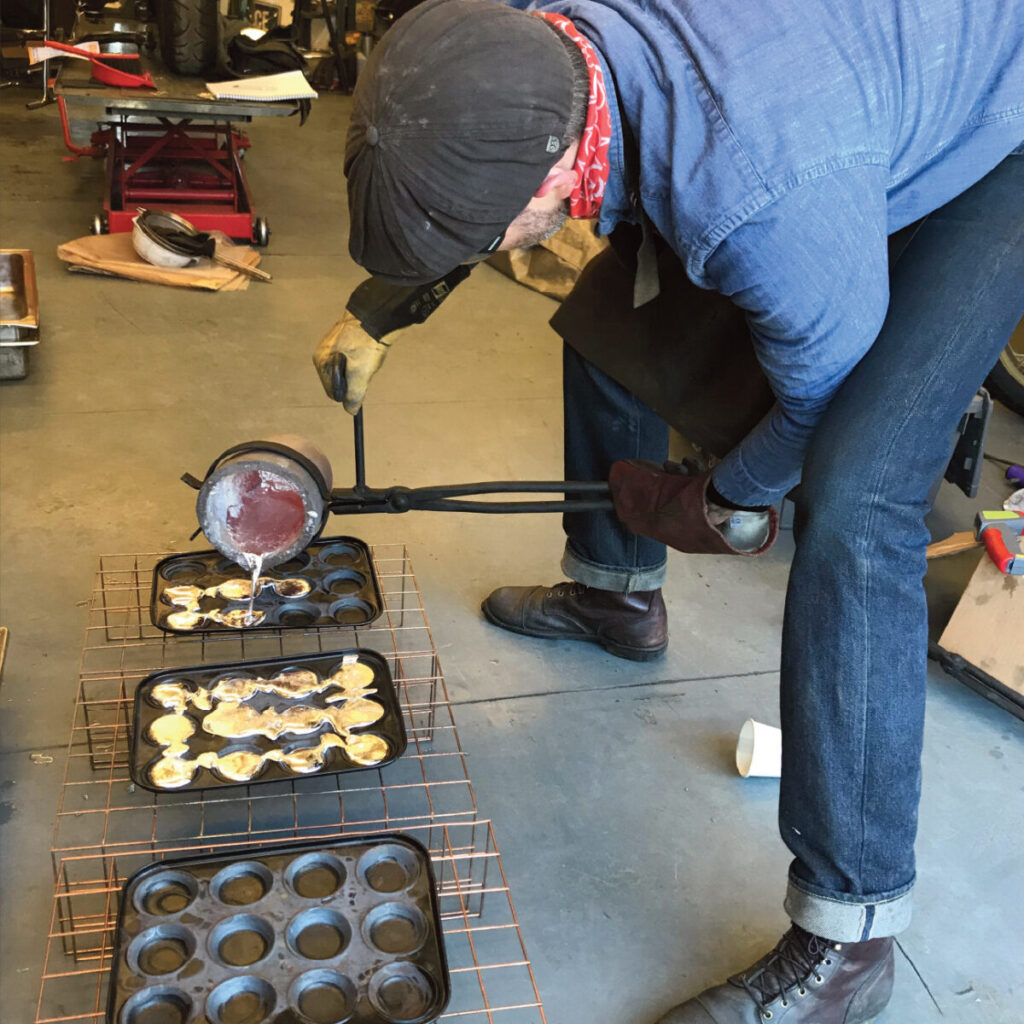 The rough engine casting smelt material had corroded steel bolts, bearing shells and lubrication points which needed removing before it could be added to the crucible, so we got to work with the angle grinder and plenty of brute force to remove any non-aluminium inclusions. When we considered the last time this material had been cast was to make the Spitfire engine crankcase nearly 80 years ago, re-melting the aluminium was a moment that was both exhilarating and poignant. We were nervous about sand casting our precious RR-50 alloy but thanks to the skill of Tom, the size of the parts and their simple form, the results were impressive.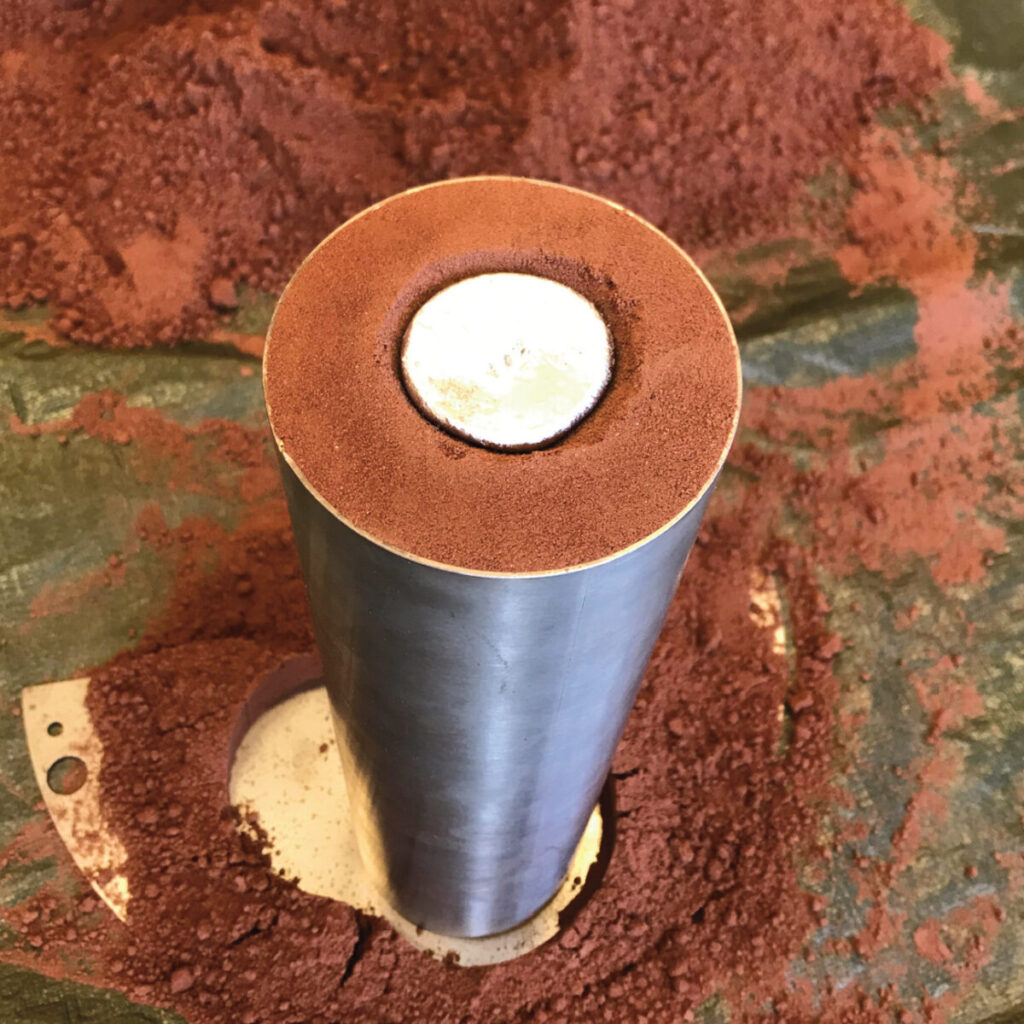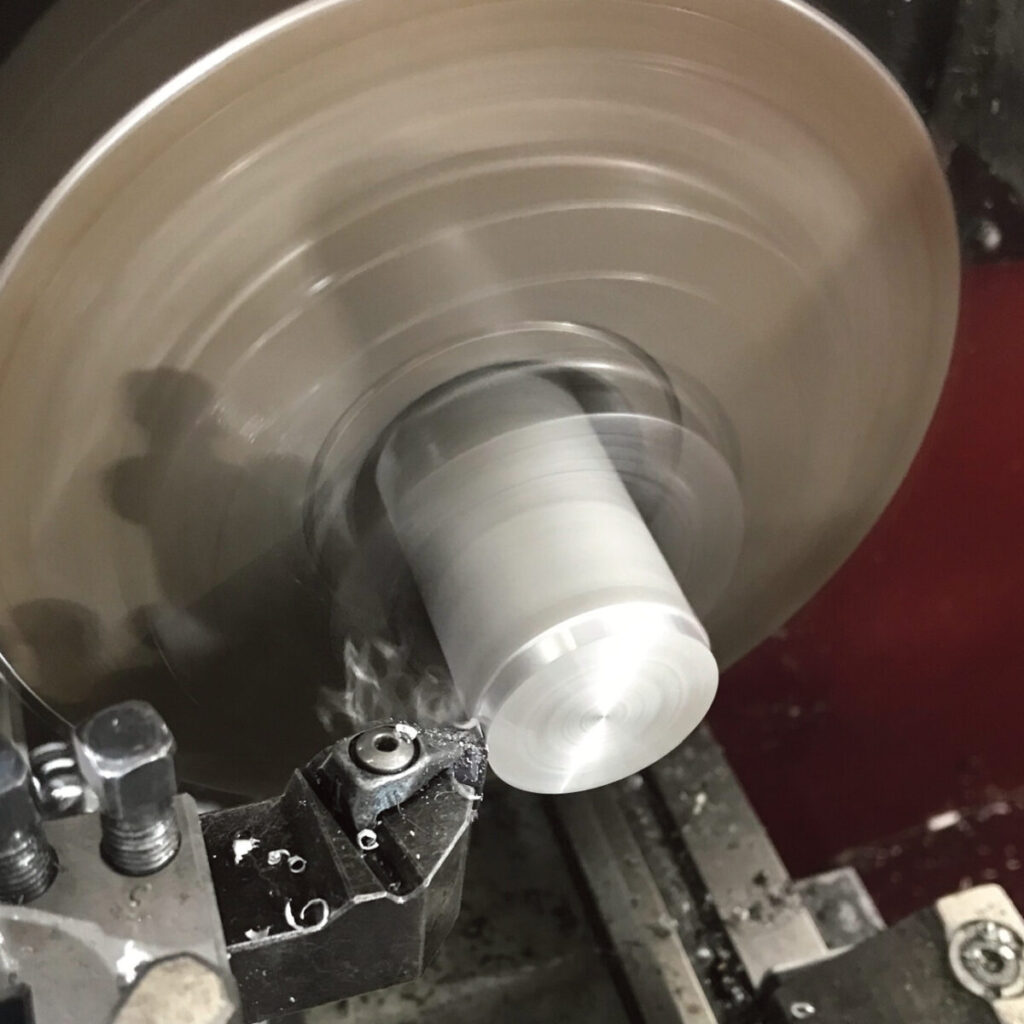 After pouring, the cast parts were carefully knocked out of their sand box moulds, quenched and cleaned, revealing new looking bars of precious Spitfire RR-50 alloy. To check their integrity and machinability, one of the bars was set up in a lathe, faced and turned. The alloy machined beautifully and revealed a perfect inclusion free finish – a huge relief!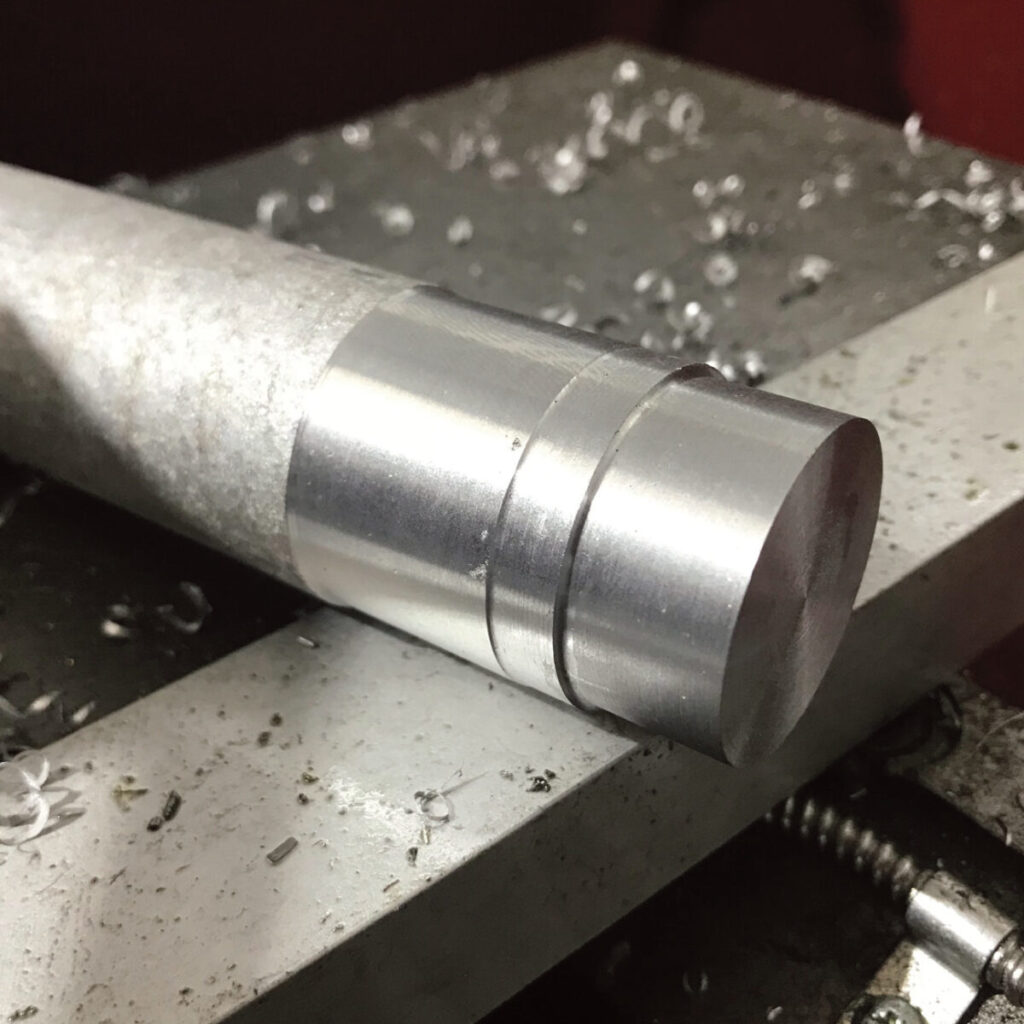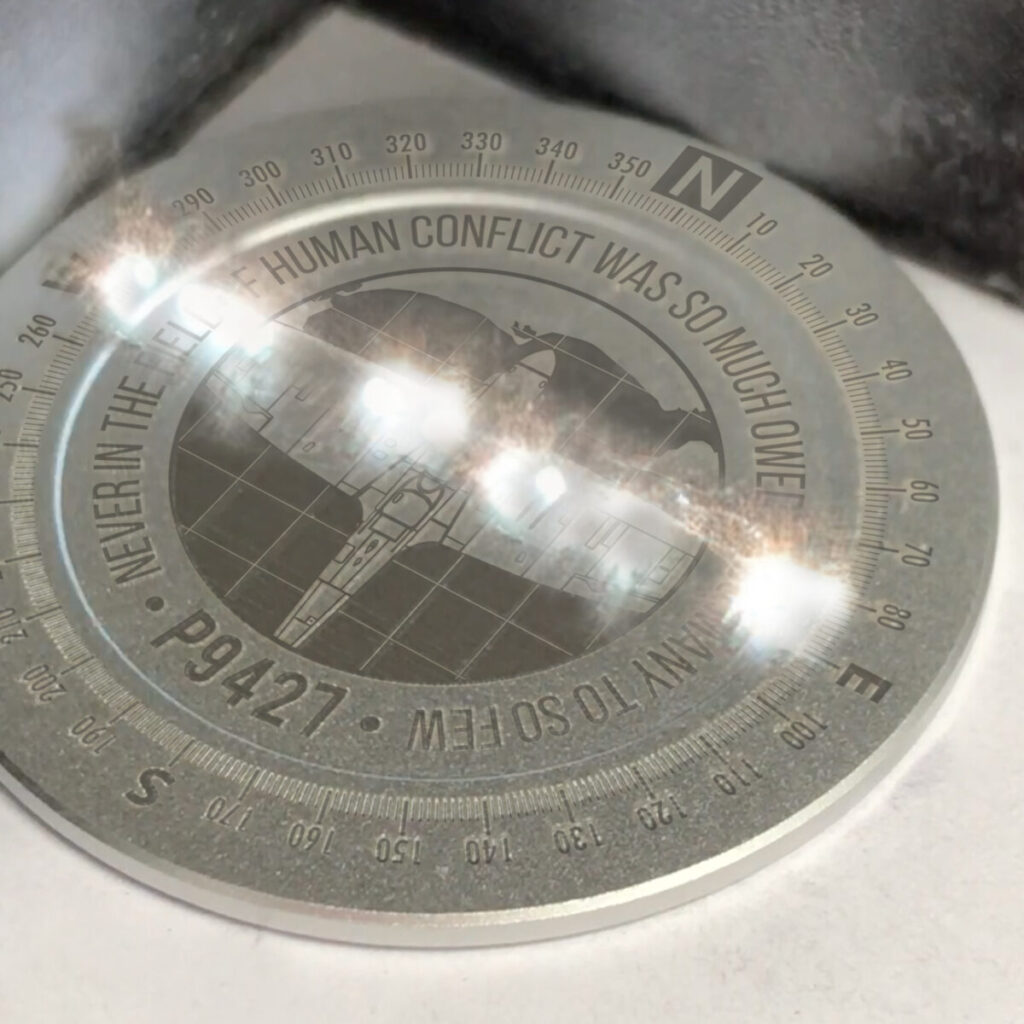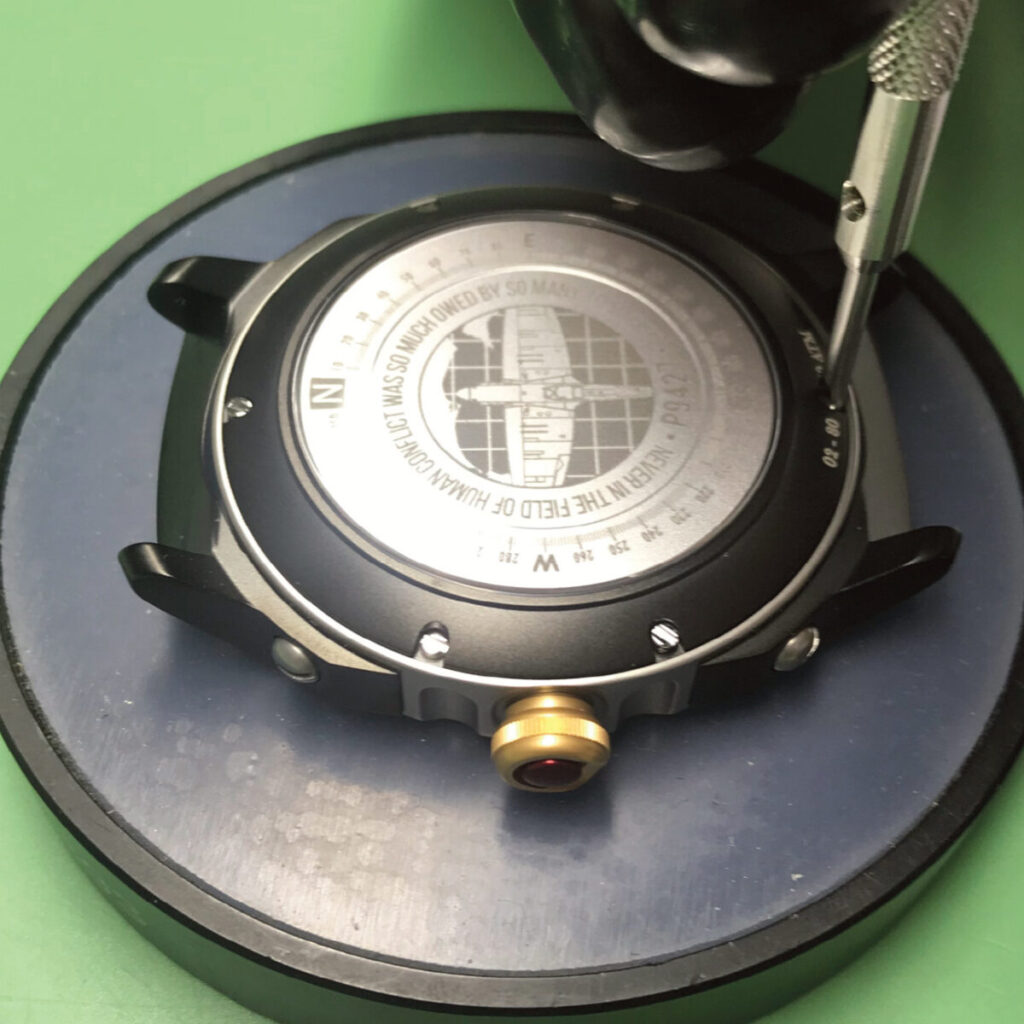 The precious cast bars were delivered to our production machinists who yielded a limited quantity of precious P9427 engine RR-50 inserts to be built into our design. These parts were lightly sand blasted to remove any machining marks and the limited edition commemorative Spitfire graphic, engraved for a perfect finish. The results speak for themselves and we owe a debt of gratitude to the close team of skilled professionals who have made this possible.'